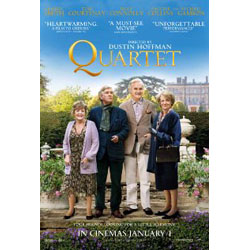 Released: 2013
Director: Dustin Hoffman
Starring: Maggie Smith, Tom Courtenay, Billy Connolly, Pauline Collins

A Gentle Gem with brilliant performances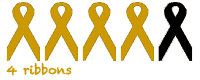 One actor I always think comes across as a (relatively) normal guy is Dustin Hoffman. His performances are always very good and in interviews he is invariably charming and personable. He manages to keep his personal life as private as is possible for a Hollywood star and most of all whenever I see him in discussion he seems, for want of a better phrase, a nice man.  It was intriguing when I heard he was turning his hand to directing and imagined that his debut feature, Quartet, would reflect his quiet, polite, nice persona. And so it is the case with this delightful little film.
Some of Britain's greatest actors (and a host of great singers and musicians) appear as aging performers living out their twilight years in Beecham House, a home for retired musicians. Preparations for the annual Verdi Birthday Gala which helps to keep the home financially viable throughout the year are thrown into chaos by the arrival of celebrated soprano Jean Horton.
The performances are uniformly wonderful. You would expect nothing less from a cast that includes Dame Maggie Smith, Tom Courtenay, Billy Connolly and Michael Gambon. Each turns in a beautiful performance as you would expect from such brilliantly talented actors – for me though the acting honours go to Pauline Collins. She is wonderfully tender as the kind-hearted Cissy who is losing her memory but still clinging on to triumphs of years ago. Sheridan Smith as the young doctor running the home is also very good, it can't have been an easy job to join such a ensemble cast but she more than holds her own, particularly in a lovely little scene with Billy Connolly's wickedly lascivious Wilf.
The script is joyous with plenty of witty one-liners which are delivered with aplomb – particularly by Dame Maggie Smith who has a talent for the caustic. Ronald Harwood has done a wonderful job of adapting his own stage play for the big screen. This is a lovely story of aging which manages to be poignant without being depressing. There's a touching love story, deftly played by Smith and Courtenay.
This is also a beautiful looking film which takes advantage of the English countryside. The setting in Buckinghamshire at stately home and regular film set Hedsor House is magnificent and Hoffman directs with a light touch allowing the scenery and his actors to shine. There are a few clichéd moments such as the plethora of golden autumnal shots to reflect the golden years of the main characters, maybe not all strictly in season as the film ends on 10th October (Verdi's birthday). A little artistic license never hurt anyone though.
What struck me most was that Hoffman chose as his directorial debut a film with such a British sensibility. Cultured, polite, well put together – but not afraid to tell you to f… off when required. A quiet gem of a film which doesn't disappoint.