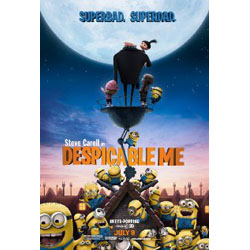 Released: 2010
Director: Pierre Coffin, Chris Renaud
Starring: Steve Carell, Jason Segel

Lots of fun but lacking in originality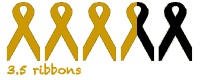 The summer holidays are only a few weeks away and already there's a lot of excitement (from me anyway) about two big animated releases coming up. Mid-July sees the Pixar prequel Monsters University where we see our heroes Mike and Sully first meet, but before that next week sees the release of Despicable Me 2. I prepared myself by having a rewatch of the 2010 original.
Produced by Universal Pictures and Illumination Entertainment Despicable Me
stars Steve Carell as Gru, an evil super-villain intent on shrinking and stealing the moon. His plans are brought to a crashing halt by the Bank of Evil refusing to lend him the necessary capital and the shrink-ray machine being stolen by younger super-villian Vector (voiced by Jason Segel). In order to gain entry to Vector's lair Gru adopts three adorable orphan children Margo, Edith and Agnes and, predictably, finds the moppets worming his way into his affections.
I really like Despicable Me, it's funny and sweet and Gru's yellow minions are the most adorable henchmen ever. I can't think of any super-villain plot (or Surrey home) that wouldn't be well served by having more of these incomprehensible little guys running around. It's very exciting news that there's a Minions spin-off due to land in UK cinemas in time for Christmas 2014.
The voice cast is perfection – Carell's Gru is a real joy with his strange Russian/Hungarian/Bulgarian accent (although the child Gru sounded American to me), Russell Brand as sidekick Dr Nefario is also very good but the standout voice is Julie Andrews as Gru's cold and distant mother.
The story is fun, if a little predictable. It's like a James Bond villain meets Annie – with the references to Annie being played up a lot. One of the orphans even bemoans the fact that Gru is no Daddy Warbucks. The idea of stealing the moon isn't exactly a new one either. Future Polish Prime Minister Jarosław Kaczyński and his twin brother and future Polish President Lech Kaczyński were the child stars of a 1962 children's film called The Two Who Stole The Moon. A hard-hearted ogre softening thanks to the love of little kids is also fairly standard fare.
The animation, by French company Mac Guff, is good but nothing out of the ordinary. There's no new tricks or great advances in the art, but the work is solid and pleasing.
And therein lies the real problem with Despicable Me. It's a fun, enjoyable film for both children and adults but it's just that – it's solid and pleasing. There's nothing new or fresh here. That's not always a bad thing and if you can produce a fun and enjoyable take on a story that's less than original that's good enough for me.
I'm just trying to work out if I can bear a cinema full of children to see the upcoming sequel and cursing Cineworld for not having adults only viewings.