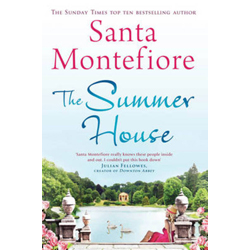 Published: 2012
Author: Santa Montefiore

Too dumb to be taken seriously – but sadly not dumb fun

It's been a busy old couple of months, I've moved home from Surrey, which I adored, to Somerset. In that time my reading and film-going have taken a back seat to packing, unpacking, fighting with BT, finding out that my Internet access was slower than dial-up circa 1998 and trying to remember to change addresses with all of the appropriate companies. Things are settling down now and although there are still a dozen or so boxes to be unpacked I'm trying to get life back on a even keel. And that means spending some time with a book in my hand again. One of the first things I did on coming to Yeovil was look out the nearest book club and pick up the chosen book for their next meeting – Santa Montefiore's The Summer House
.
The story starts at the funeral of Lord Frampton, an adventurous peer who has died while ski-ing. His family is devastated by the appearance at the funeral of Phaedra, a beautiful young woman who claims to be his long-lost daughter but her sweet nature wins everyone over and slowly Phaedra touches the lives of the entire Frampton family including Antoinette – the grieving widow still devoted to her reckless husband; Margaret – the bitter mother battling her own historic demons and David – the lonely heir to the title and family estate. As time passes David and Phaedra find themselves increasingly drawn to each other in a shocking way.
Are you snorting wildly yet at how implausible and wildly over the top this book sounds? If not then I've not explained it very well. This is one of the most bonkers books I've ever read. And I don't mean that in a good way. It's over the top, it's crass and at times it's more than a little creepy. No matter if you see the "twist" coming from page 1 (and I can't imagine anyone with half a brain won't see it coming) there's still not much fun to be had in a lighthearted incestuous love story. It's icky.
The Summer House takes place in a Britain that very few people will recognise. For several chapters I had not idea what decade it was set in. Was it the 20s? The portrayal of the Lords of the manor and their forelock-tugging servants and devoted villagers is so cloying that the writers of Downton Abbey would blush. The characters are one-dimensional and all fit into neat little clichés and how the storyline will develop is signposted hundreds of pages in advance.
This book isn't without some merit. The plot zips along at a decent pace and it's never less than easy to read. I can imagine that some people will enjoy it as a simple holiday read. For me though it was too simple, too ridiculous, too stupid and far too inappropriate to lose myself in, even as a mindless bit of fluff.