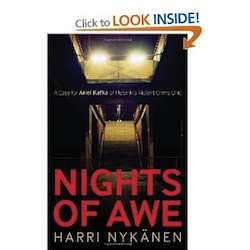 Published: 2012
Author: Harri Nykanen
Translated by: Kristian London

Another Scandinavian Crime Hit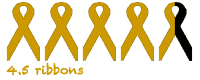 At the beginning of this year I had never read any Finnish literature, it's nearly the end of February and I've now read two great Finnish books. The first was the great little novella, The Brothers, published by Peirene Press and now the latest release from Bitter Lemon Press. Bitter Lemon specialise in bringing the best in European and World crime fiction to the UK market and Nights of Awe
is their first, but hopefully not last, title from former journalist Harri Nykanen.
Ariel Kafka is one of only two Jewish police officers in Finland and his world is constantly torn between his faith and his job. Kafka's loyalty lies with his profession but his family and community don't always make this easy. Against this backdrop he has to investigate the violent deaths of four Arab men in Helsinki. The title of the book is a reference to the Jewish festival of Yom Kippur, preceded by the Days of Awe, a period of introspection and a time to seek forgiveness. The importance of Yom Kippur and introspection is a key theme of Nights of Awe, but thankfully it doesn't overwhelm the more important crime aspect of the novel.
The story twists and turns as Kafka investigates the possibility that the crimes are related to terrorism, drug smuggling or Israeli political maneuvering, the latter seeming likely due to the involvement of Mossad and the Israeli Embassy in the case. It's not easy to separate the actions of the state of Israel and the Jewish people but it is managed very well here which was a relief. I get very frustrated with the habit some commentators and writers have of assuming that all Jews agree with Israel and Nykanen shows this doesn't have to be the case.
Nights of Awe isn't a typical Scandinavian crime novel. Nykanen is not quite as bloodthirsty as other writers such as Stieg Larsson or Jo Nesbo, but there's still a satisfyingly high body count and it could no way be regarded as a cosy mystery. There's a satisfying sense of humour to Nykanen's writing. I'm sure plenty of my friends will recognise the Jewish mother whose response to her son coming fourth in his class at the Police Academy is to ask why he couldn't be top of the class like his brother and sister. I particularly appreciated the irony of Ari's former fiancée breaking their engagement because Judaism was too strict a religion to marry into, then going on to wed a Muslim. It neatly told us all we needed to know about our hero's unsuccessful love life.
This is a fabulous detective story and Ariel Kafka is a fantastic addition to the roster of great fictional cops. There's plenty of scope here for a series of novels starring Ari. His family backstory is rich, with the suicide of his sister a constant presence in his life and it would be good to develop the roles of colleagues within the Violent Crime Unit. I thoroughly enjoyed Nights of Awe and hope that Bitter Lemon Press are planning to publish more of Nykanen's work.