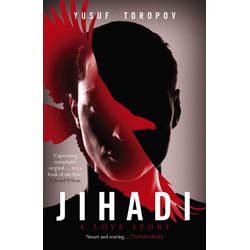 Published: 2015
Author: Yusuf Torpov

Complex, compelling and important

Last autumn I was lucky enough to take part in the cover reveal for Yusuf Toropov's debut thriller Jihadi: A Love Story
. At the time I didn't know much about the book other than its provocative title, striking cover and the fact it was being published by the always impressive Orenda Books. I've been waiting since that cover reveal to read the book and was excited when it was finally time to settle down with it.
An American ex intelligence agent and convert to Islam is being held in a secret prison overseas. He has written the story of the events which led to his conversion and imprisonment which is in the hands of a brilliant but emotionally unstable psychologist who is making her own annotations to the text, annotations that make the reader unsure of which of the main characters to trust – if either of them.
I'm not going to lie, Jihadi: A Love Story isn't an easy read. The switching between viewpoints took a while to get used to as did the way that characters referred to themselves and each other. I was about 18-20% into the book before I worked out what was going on and who was who, but it was ok because by that point I was absolutely hooked. It may take readers a while to settle into the rhythm of the narrative, but it's definitely worth the time and commitment.
I could write essays about Jihadi: A Love Story. I could explore the motivations of the characters and which characters could be usefully classed as "good" or "bad" (short answer – maybe one, but probably none). There is so much scope for discussion in this book that you'll be thinking about it for weeks after you've read it. It leaves you unsettled and unsure about the very nature of right and wrong.
I really enjoyed the characters – all of the principal players (with one possible exception) were complex and hard to quantify as the heroes or villains of the piece. While actions seemed reprehensible at times, there is often a plot point that helps to create some confusion in the mind of the reader. I still don't know whose version of events to believe and could write for hours about each incident and how the seemingly minor actions of individuals led to repercussions beyond their comprehension.
The deeply provocative title leads us into an intelligent, complicated, difficult and compelling story. Yusuf Toropov has created a novel which isn't easy to read but remains captivating throughout. Take the time to read it, think about it and savour it – it has the makings of a modern classic.