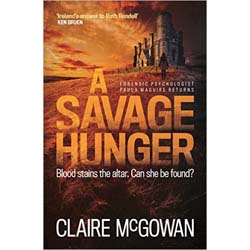 Published: 2016
Author: Claire McGowan

Another great story in an increasingly impressive series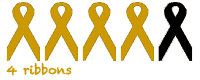 In the past couple of years I've become something of a fan of Claire McGowan's Paula Maguire series, crime novels with a forensic pathologist based in Northern Ireland. Last December I reviewed The Silent Dead, the third in the series and was desperate to find out what happened next in the life of the protagonist and her newly born baby Maggie. Thankfully I didn't have too long to wait as I received a copy of the fourth book A Savage Hunger
soon after.
There's been a slight time hop in Paula's story – her baby is now a toddler and she is preparing to marry her teenage sweetheart who is happy to be a father to Maggie, despite not knowing whether or not he is the child's biological father. The Missing Person's Unit has also seen huge changes since the last book and is suffering the knock-on effects of how the previous story finished.
The main story focuses on the disappearance of student Alice Morgan, a girl who has suffered from eating disorders in the past and whose family (including her Home Office minister father) and friends seem oddly unmoved by her disappearance. The case draws parallels both with the 1980s hunger strikes and the disappearance of another young woman thirty years previously.
As with the previous three Paula Maguire books the Northern Ireland Troubles loom large, whether or not they have a direct relevance to the case being investigated. For Paula, whose own mother is one of the Disappeared, history still plays a very important part in the present. I've loved the sense of place and menace that Claire McGowan has created for these books, but there's now a little part of me that wants to see Paula move on – perhaps even leave Northern Ireland behind. The books have all worked brilliantly well, but if we are to continue Paula's story into fifth, sixth and seventh instalments (and I really hope we do) then I think it's important that Paula develops further and she may have to move away from her small town to do so.
Alice's story was well told, with the reader kept off balance as to where she had gone and who (if anyone) had taken her. I don't think there was anything particularly ground-breaking in the thriller element of A Savage Hunger but it was very well written and compelling throughout.
Paula Maguire is probably my favourite current crime heroine and I really want to see more books from Claire McGowan in the series. It's well worth reading from the beginning and hopefully long into the future.