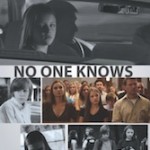 It seems like only a couple of days ago that this year's Raindance Festival closed but already the team has opened submissions for next year's festival. This year over 138 short films were featured and films from over 35 countries featured. In my coverage over the past couple of years I've tended to focus on the feature films but I've been contacted by some short film-makers and have been reassessing my thoughts on short films. It takes real talent to tell a full story in a few moments.
I recently watched a short film called No One Knows, a hard-hitting and very effective film about child sexual abuse which has been submitted by the producers to a number of film festivals in the US. I really hope that the team chooses to submit their film over here in the UK as it's exactly the kind of film that the Raindance team likes.
It's well made, it's very well acted particularly by its two young stars Sami Isler and Caleb Barwick and it isn't afraid to tackle head on the kind of issues that many other film-makers may shy away from. Raindance has a reputation for promoting hard-hitting story-telling with powerful messages and that's exactly what No One Knows contains. No One Knows proves that you can tell a complex and commanding story in a very short timeframe without losing any of the strength needed. I can see this playing very well indeed and gaining a lot of fans.
You can find out more about No One Knows at the film's website
You can submit your film for consideration at Raindance's website