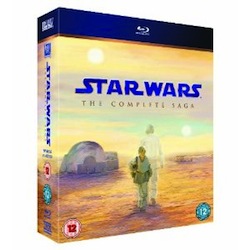 The big news from the US tonight, which appears to have taken everyone by total surprise is that Disney have bought Lucasfilm for the bargain price of $4billion.  And there's a new installment of the Star Wars
series due in 2015 with parts 8 and 9 to follow.  Sole owner of Lucasfilm, George Lucas, will continue to act as an advisor but control of Lucasfilm in the new Disney structure will now lie with new President of the company Kathleen Kennedy who will report to Walt Disney Studios Chairman Alan Horn.
The news that there will be a new addition to the Star Wars franchise is a huge shock but unlike initial reactions I've seen on Twitter, I'm actually quite excited.  George Lucas created a wonderful universe in Star Wars but it was always better portrayed when taken out of his control and when other people had creative input.  Kathleen Kennedy isn't an idiot – she's produced and exec produced some of the best action, adventure and science fiction films out including the Back to the Future series, Jurassic Park and ET.  One of her most frequent collaborators is Steven Spielberg.  Can you imagine a Speilberg Star Wars film? It would be epic.
There's so many places for a post Return of the Jedi series to go with well-loved books that could inspire the next Star Wars chapter.  As long as we stay away from trade disputes, annoying children and bloody Jar Jar Binks it could be great news.  I'll be watching with real excitement to see what happens next.