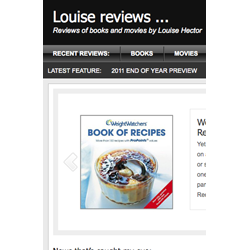 Two months ago today (7 July 2011) I started reviewing books and movies on this website. I'm absolutely thrilled at how it's going, and continue to be extremely grateful for the support of all of you who read it. Thank you.
Given it's only two months, I was also thrilled to attend the press launch for the Raindance Film Festival. Don't get me wrong, I'm taking it seriously and putting as much (if not more) effort into creating content and talking to readers as it would take to hold down a full time job. Nevertheless, it was great to be able to learn first hand of the plans for the festival and I'll do my best to repay that trust by bringing you all the highlights at the end of this month.
There were some other bloggers at the launch, and what surprised me even more is that some of them were turning to me for advice on how to get started. I am just finding my way, but in addition to working on the content, I've also been putting effort in to get the mechanics right. I use wordpress to host the site so it was a case of choosing the right theme, then reviewing plug-in after plug-in, something which my husband and I continue to do. Indeed if anyone knows a great plug-in that will let me automate displaying the review score then please let me know. Most of them seem to be about letting readers vote, which I'm not ready to do yet but will consider in the future once I have some more content.
We've added functionality like the links between series posts (plugin: 'Organise Series') in just the last week, to enable me to hook up the Star Wars reviews and I'm now using a service called Get Glue to tell you what I'm reading and watching – a sneak preview of what's coming up on the site.
In the next month I intend to launch an online book club – an opportunity for us to discuss a book on a certain day and time, once we've all had the opportunity to read it.  I'll let you know the book soon, but if you'd like to be in at the launch of this then please drop me a note in the comments and I'll email details as soon as it's ready.
I'm happy to share that at current rates, by the end of today the website will have achieved 500 unique visitors in the past 30 days.  I monitor this every morning and we were just a few off at the end of yesterday.  In the past month it's grown well, but the number of pageviews has skyrocketed too meaning you're not just coming and looking at one article that's been linked somewhere, when you get here you have a look around and read the other items I've produced.  That thrills me and again I'm extremely grateful for your support.
Finally, to try and make this sustainable in the long term I am trying to identify appropriate ways to fund the site.  I don't want to smother you with advertising, but where there are related items I can bring to you and gain a small commission I will.  I've been running Amazon adverts and links over the last two months and have made some sales which I'm really pleased about.  I guess if you're a fellow blogger you're also interested to hear how well that's performed if you're considering similar ads on your site.
Today I've added a new vendor, Moko Chocolates, who supply fabulous gift products for when you want to be generous (or if you're feeling just that little bit naughty).  I'll run their ad on the top of the site for 30 days and see how it performs.
If you'd like me to, I'm happy to write one of these posts monthly to let you know how the other side of running the website is going.  Likewise, please let me know if you feel it's too much of a distraction and want me to get back to reviewing books and movies – which of course is what I love to do!
That's it.  Edd Kimber's fabulous looking book of baking recipes, The Boy Who Bakes,
arrived by post this morning from the publisher for me to review.  It goes on sale tomorrow so I'm going to try some of the recipes this afternoon so that I can get a review up tomorrow morning.  As I was shopping earlier today, it occurred to me that while the last two months has been incredibly hard work, it's also a pretty amazing opportunity too – to read books, watch films, and occasionally do other things I enjoy such as baking or going to the theatre.  To then be able to write about my experiences and receive such magnificent support makes me really happy.
Thanks again.
Louise