In a rare moment of enthusiasm I signed up to the #SummerPaperback challenge being hosted by Sophie at Reviewed the Book. The idea is simple and based on the fact that we all have massive To Be Read piles and never seem to get round to reading the books that are growing out of their space on the bookshelves. To battle the TBR piles, bloggers and reviewers are going to take June, July and August reading those paperbacks that have been ignored for too long. Some people have set themselves ambitious targets – I've seen a couple of people aiming to read 50 over the summer. I can't do that, I read far too slowly and also have a huge number of Netgalley books to read and review at the moment. But I am going to set myself a target of 12. Not a huge amount but one a week should be doable. Here are some of the paperbacks on my To Be Read list which I hope I'll be able to make a dent in by the end of the summer: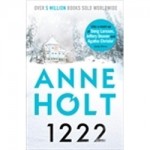 1. 1222
I'm very lucky to receive review copies of books from publishers, but that does mean that the books that I buy myself tend to get pushed down the list – especially those from charity shops. One of the things I want to achieve with this challenge is to get through some of my charity shop books and this Nordic thriller by Anne Holt is one of those.
2. A Colder War
Despite having over 200 books on my TBR list I still enter Goodreads giveaways. I won Charles Cumming's spy thriller a couple of months ago and haven't got round to it yet. I don't want it to end up like a couple of others that I've received – unloved on a shelf for two years.
I've had a bit of a slump recently – as you can probably tell by the lack of reviews. It's something that happens to me now and then and it always makes me feel dreadfully guilty. Margery Allingham's classic Campion mystery The Crime At Black Dudley has recently been re-released with a lovely new cover. This came exactly in the middle of my slump and I got less than half-way through before putting it aside. I'd like to rectify that over the summer.
4. Fire and Brimstone
I've read quite a few Colin Bateman novels and have always enjoyed the cases of Dan Starkey, the Belfast private detective. I received a copy of his latest thriller, about the missing daughter of a billionaire media mogul, last year and tidied it into its appropriate place on my bookcase. Unfortunately that's behind a chair and I totally forgot about it until recently.
A recently released debut novel by Jenny Blackhurst, this is the story of a woman who has served three years in a psychiatric institution for killing her baby son. On her release she receives a photograph of a child and she starts to reassess her belief in her guilt. The concept intrigues me and it seems to fit in well with the recent fashion for female centred psychological thrillers which has seen such great reads as I Let You Go.
6. Pop Goes the Weasel
Earlier this year I read the first DI Helen Grace novel, Eeny Meeny. I loved the storyline and mostly enjoyed the book but found the main character somewhat irksome. This is the second novel in the series and I really want to enjoy it and see if I can warm to Helen and her adventures.
This was a big hit a couple of years ago and it went completely past me. I've seen so many good reviews and comments on social media that when I found a cheap copy in a charity shop I had to have it obviously. I'm really looking forward to having a guilt free read of a charity shop purchase.
8. The Temporary Bride
Every now and then I get contacted on Twitter by authors who would like me to review their books. Sometimes I say no thanks, citing an already massive schedule. But every now and then a book is suggested that looks irresistible. Jennifer Klinec's memoir of her life and culinary adventures in Iran was one such offer.
9. Where Did It All Go Right?
I've only read a couple of misery-memoirs but I'm not a fan, thankfully nothing in the books chimes with anything in my life. A few years ago I heard about Andrew Collins's answer to this genre – his story of a happy childhood in Northampton. This seems much more like my kind of story of youth.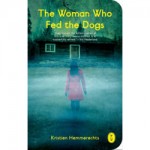 10. The Woman Who Fed The Dogs
There's nothing that cheers me up more in life than opening an envelope containing books. Especially books that I don't know that I'm going to receive. A couple of weeks ago I received three books from World Editions. All look amazing but I'm most intrigued by this story, based on the life of Michelle Martin, the ex-wife of Belgian paedophile and murdered Marc Dutroux.