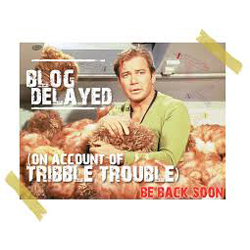 I've had a bit of a blogging break for a few months, sometimes the need to read ALL the books and see ALL the films is a bit much and the fun is taken out of what should be a really important and enjoyable part of my life.  I'm thoroughly grateful to all of the authors and publishers who have provided me with books for review and some of those books have become firm favourites but about half way through last year I found that I was a little overwhelmed and reading review copies because I HAD to and not because I wanted to.  It became a chore.  I wasn't reading any of the 200+ books I had bought and old favourites that I love to re-read weren't likely to get a look-in.  It was time to take a break and rediscover my love of reading for fun.
I'm delighted that it's worked, I read more in the past couple of months than I had in a long time before that.  Once again I've found myself staying up late into the night reading the mythical "one more chapter", I picked my next book based on what I thought I'd enjoy rather than which one I had received most recently or when a book was due to be published.  It was liberating and it was fun.  I haven't written a review in a couple of months and if I'm honest it feels quite good.
It's time now to think about coming back.  I still have a couple of books from publishers to read and review, I have some draft reviews that I wasn't entirely happy with to redraft and publish and I'm looking forward to the interaction with fellow bloggers, readers and movie-lovers.  I'm not going to promise daily posts and I'm certainly not going to promise that everything reviewed will be a new release but hopefully I'll rediscover my enjoyment of blogging, just as I've reawakened my love for reading.